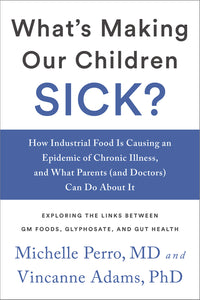 What's Making Our Children Sick?
How Industrial Food Is Causing an Epidemic of Chronic Illness, and what Parents (and Doctors) Can Do About It
     With chronic disorders among American children reaching epidemic levels, parents are desperately seeking solutions to their children's declining health, often with little medical guidance from the experts. Veteran pediatrician Dr. Perro and medical anthropologist Dr. Adams offer a path forward to improve the health of our kids, and it begins with food.
     Today, pesticide use is at an all-time high and these agrochemicals are finding their way in to our livestock, agricultural industries and ultimately, onto our plates. An invaluable resource for parents, practitioners and health educators, What's Making Our Children Sick? exposes our current predicament and offers insight on the medical
responses that are available, both to heal our kids and reverse the compromised health of our food supply.