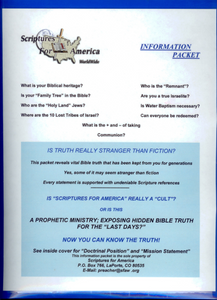 The SFA Information Packet
This SFA Information  Packet is a "Must Have" item for the true Israelite believer.
Use it to share your faith with Family and Friends.  This fine collection explains the Anglo-Israel truth with easy to understand clarity.
The SFA Information  Packet contains 8 publications of extreme interest. Learn and share the truth of God's New Covenant with the House of Israel, the  westward migration of the ten lost tribes, and God's ultimate plan for the restoration of the entire house of Israel. 
You get the following in this SFA Information Packet:
ROOTS DVD
GOD SAVE AMERICA AGAIN DVD
THE ABRAHAMIC COVENANT by E. Raymond Capt
THE GREATEST LOVE STORY NEVER TOLD
A BIBLE STORY
THE GREATEST DISCOVERY OF OUR AGE
HOW TO BECOME A CHRISTIAN
COMMUNION & ITS POTENTIAL BLESSINGS, CURSES AND NEED.