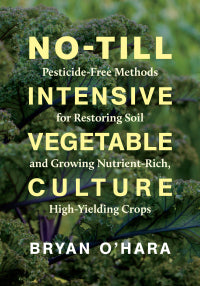 NO-TILL Intensive Vegetable Culture book
             From a veteran organic grower: a unique agricultural methodology that delivers higher yields, higher quality, and higher profitability—absolutely free of herbicides or pesticides
No-till farming has rapidly grown in popularity among vegetable growers due to its high-quality, high-yield, high-profit results. Renowned organic grower Bryan O'Hara perfected the technique during the multi-year transition of his Connecticut vegetable farm to a no-till system. His vibrantly healthy, resilient plants are testaments to the value of allowing the inherent biological functions in soil to do their work.
In No-Till Intensive Vegetable Culture, O'Hara describes the methods he has developed, which are completely free of herbicides or other pesticides and require only a few acres of land and minimal capital investment. He asserts that this flexible, ecological methodology is as important for soil fertility as it is for his economic success.
Whether you're a high-yield producer, a homesteader, or a market gardener, No-Till Intensive Vegetable Culture is the go-to vegetable grower's manual for the twenty-first century. O'Hara's advanced yet accessible methodology will both help you respond to natural systems and adapt to meet future challenges.