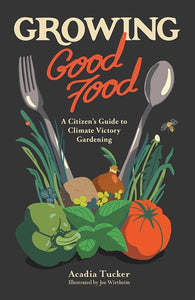 Growing Good Food
A Citizen's Guide to Climate Victory Gardening\
By Acadia Tucker
This is a handbook for growing a Victory Garden when the enemy is global warming. Acadia Tucker, a carbon farmer and gardener, invites us to think of gardening as civic action. By building carbon-rich soil, even in a backyard-sized patch, we can capture greenhouse gases and mitigate climate change, all while growing nutritious food.
To help us get started, and quickly, Tucker drafts victory gardening instructions for gardeners who have a little ground or a lot of it. She offers advice on how to prep soil, plant food, and raise fruits, herbs, and vegetables using regenerative methods. She describes the climate changes taking place in our own backyards and the many steps we can take to boost a garden's resilience.
Growing Good Food includes calls to action and insights from leaders in the regenerative movement, including David Montgomery, Anne Biklé, Gabe Brown, Wendell Berry and Mary Berry, and Tim LaSalle. By the end of it, you'll know how to grow some really good food, and build a healthier world, too.
Learn how to grow: blackberries, currants, fruit trees, herbs, rhubarb, strawberries, walking onions, peppers, tomatoes, green beans, cabbage, carrots, cucumbers, garlic, kale, lettuce, peas, potatoes, radishes, spinach, squash.
Growing Good Food is part of Stone Pier's "Citizen Gardening" series, which highlights how to grow food and garden in ways that are good for the planet. The series includes Lawns Into Meadows: Growing a regenerative landscape, Growing Perennial Foods: Raising resilient herbs, fruits and vegetables, and Tiny Victory Gardens: Growing good food without a yard.