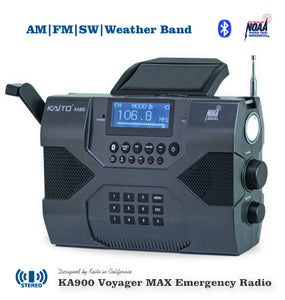 NEW 2022 Shortwave Radio KA900 Voyager MAX
All in One Stereo Music Machine
Radio AM|FM|SW|NOAA Weather, MP3 Player with Micro-SD Card, Bluetooth Connection and Stereo   Dual Speakers with Cellphone Hand Free, Recorder (Radio, Voice, Immediate  Recorder and Time Scheduled       Recorder), Alarm Clock, Text Browser, Calendar.
Multi-way Powered
Dynamo Cranking, Solar, Rechargeable Battery (18650), Micro-USB Port and DC-in Jack
Multi-function Emergency Radio
True Emergency Gadget. Perfect for black-out,     earthquake, hurricanes and any situation that you    need power and information, plus music!
Bright Light Mode
Bright 5 LED Adjustable, Tilt-Angle Reading Lamp and Flashlight.