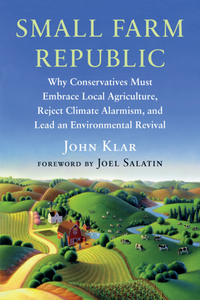 Small Farm Republic
Small Farm
Republic
Why Conservatives Must
Embrace Local Agriculture,
Reject Climate Alarmism, and
Lead an Environmental Revival
"I have read at least 20 books a year for the past 25 years and Small Farm Republic is absolutely one of the very best that I have ever read. . . A must-read not only for those involved in all facets of agriculture but policy     makers and consumers as well."—Gabe Brown, regenerative rancher, author of Dirt to Soil
While many on the Left have taken up the mantle of creating a "green" future through climate alarmism, spurious new energy sources, and technocratic control, many on the Right continue to deny imminent environmental threats while pushing for unbridled deregulation of our most destructive industrial forces. Neither approach promises a bright future.
In a time of soil degradation, runaway pollution, food insecurity, and declining human health, the stakes couldn't be higher, and yet the dominant political voices too often overlook the last best hope for our planet—supporting small, regenerative farmers. In fact,
politicians on all sides continue to sell out the interests of small   farmers to the devastating power of Big Ag and failed "renewable energy" incentives. 
It's time for a new vision. It's time for bold new agriculture
policies that restore both ecosystems and rural communities.
In Small Farm Republic, John Klar, an agrarian conservative in the mold of Wendell Berry and Joel Salatin, offers an alternative that puts small farmers, regenerative agriculture, and personal liberty at the center of an environmental revival—a message that everyone on the political spectrum needs to hear.